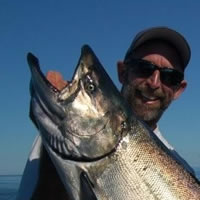 Rick was born overseas and grew up living in a number of counties in Europe. From Israel, Sweden, Switzerland, France and Germany anywhere there happened to be a lake or river Rick would be fishing every chance he got. Eventually settling in Kelowna in his early teens his passion for fishing continued where he would think nothing of riding his bike 15-20 miles to go fishing on weekends and summer holidays. After relocating to the coast, Rick discovered a new passion – saltwater fishing. As his experience and skills grew he made the leap into the fishing charter business.
Operating his company in the early years out of Comox, Campbell River, Gold River and Victoria, Rick eventually brought his fishing charter and guide business to Tofino in 1995. With over 32 years of guiding experience, the last 29 years exclusively in Tofino, his skills have been sharpened and his enthusiasm for the sport he loves continues so he can provide his guests with unforgettable sport-fishing adventures.
In addition to his time spent on top of the ocean Rick has spent the past 35 years commercial diving for seafood in the remote wilderness of the North Coast of B.C. From red and green Sea Urchins, to Sea Cucumbers and the infamous Geoduck, Rick has amassed over 15,000 hours of underwater time and has spent countless days onboard various boats in all kinds of sea conditions where he rarely sets foot ashore for weeks at a time.
After over a quarter century spent either above or below the ocean Rick's passion for his work is evident. With a healthy respect for the marine environment and safety you'll be in good hands with Captain Rick.
Rick's Credentials
Transport Canada

Marine Emergency Duties – A1
SVOP Certification

St. John Ambulance

Marine First Aid, Transport Canada
Oxygen Therapy Endorsement
Spinal Immobilization Endorsement

Government of Canada

Radiotelephone Operator's Restricted Certificate.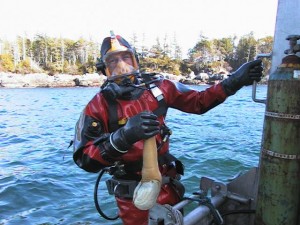 Our Boat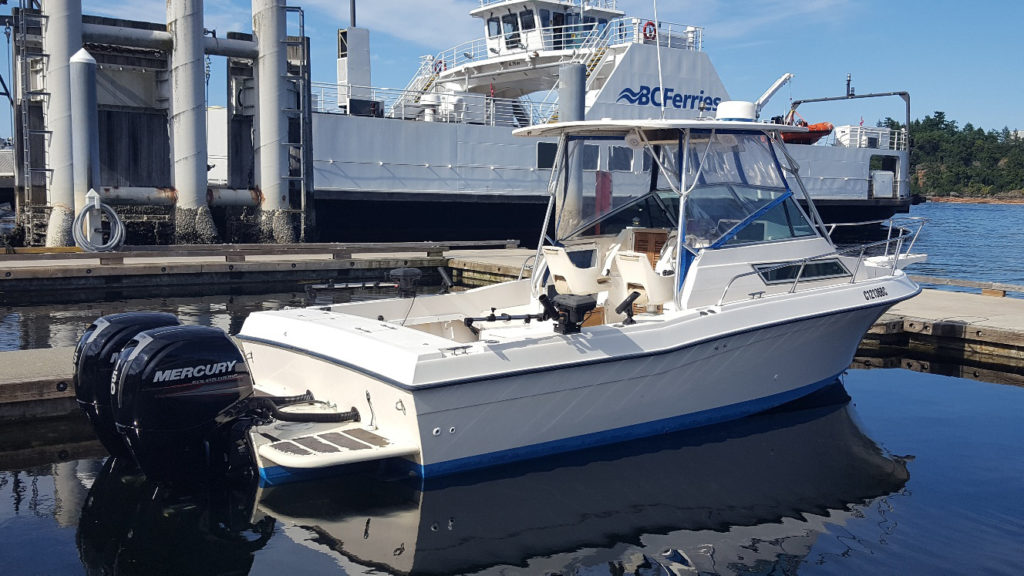 Welcome aboard our 25ft. Grady-White "Gulfstream" sport fishing machine. Here on the West Coast of B.C. the "Gulfstream" has been long considered the Cadillac of sport fishing boats. Renowned for its safe, smooth ride and powered by two new Mercury 150 Four Stroke engines she has a huge beam (width) of 9'4" which provides a large, uncluttered cockpit area for fighting fish and rightly earning her one of the most stable and comfortable fishing platforms of comparable sized boats in any sea.
Being well equipped with two GPS units, sounder, VHF radio, radar, private marine head (toilet), Scotty Electric Downriggers and all the fishing gear and bait, she also has all the necessary safety equipment on board and is fully insured.